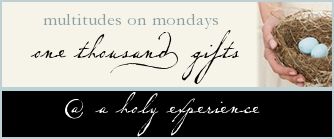 "A grateful heart is one that finds the countless blessings of God in the seemingly mundane everyday life." ~Anonymous~
176. The ability to request and renew library books online
177. Ghiradelli 60% chocolate chips on clearance!!
178. the produce at BJs
~ they have awesome apples....and carrots, and spinach, etc. ~ and organic! =)
179. Time to visit with friends
180. Friends who "get" me and the need to explain myself doesn't exist because they do!!
181. My daughter sleeping in my room last night because her room is topsy-turvy at the moment
182. Talking in the dark....
183. ....and the giggles that erupt
183. Progress in areas that have been at a standstill for longer than I care to count
185. Hope that one day there will be progress in other areas as well
186. Those who step in and help
despite the fact that some people who shall remain nameless have and inability to admit they need help!
187. The freedom that sometimes comes with letting go
188. A new week, giving us.....
189. A new start
190. ♫ Just as I am, though tossed about
With many a conflict, many a doubt,
Fightings within and fears without
O Lamb of God, I come, I come.
I come broken to be mended,
I come wounded to be healed
I come helpless to be rescued,
I come empty to be healed.
I come desperate to be pardoned
By the blood of Christ the Lamb,
And I'm welcomed with open arms,
Praise God, JUST AS I AM. ♫