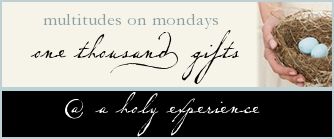 "It is not how much we have, but how much we enjoy, that makes happiness."
~ Charles Haddon Spurgeon
159. New flooring piled up in front of my fireplace


160. Furniture outside on the back deck, and piled into the center of the room
161. New paint ~ good-bye 12 yr. old faux finish and color scheme I have long ago tired of; hello clean, simple, tranquil colors!
162. The therapeutic benefits of covering worn, dated walls with a new fresh look ~ although I have to admit, it was much more therapeutic before I had 3 children old enough to help......and argue debate and chatter NONSTOP throughout the whole process
163. My ♥daughter♥, who is work-horse when she wants to be!
164. Child Labor ; )
Yes, that is a tent in the backyard. ~ Sigh ~
165. Organic produce, quite literally fresh from the garden ~ one of my sweet friends introduced me to a local apiary and organic produce farm located nearby this past weekend! We visited it, and the owner took us through her garden, explaining what each variety of produce was, then cut what we wanted! We are so enjoying our selections this week....and I love supporting my local economy!
166. Gorgeous weather
167. Wisdom to make the time to enjoy it ~ ok, so maybe you wouldn't call it wisdom.....maybe Spring Fever. But when my children say to me "Thanks, Mom....I had fun with you today" before bed ~ I'm going with wisdom ; )
168. Butterflies
169. Bunny rabbits
~
esp. when they hop right over to me, hoping I have a treat
This is Jack!
170. Sunshine
171. Green grass

172. Windows open

174. Daisies ~ my favorite!
175. ♫ For the beauty of the earth, For the glory of the skies,
For the love which from our birth, Over and around us lies.
Lord of all, to Thee we raise, This our hymn of grateful praise
. ♫