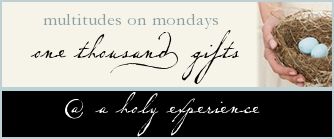 Thou hast given so much to me,
Give one thing more, - a grateful heart;
Not thankful when it pleaseth me,
As if Thy blessings had spare days,
But such a heart whose pulse may be Thy praise.
143. The Bible Study Group my daughter just joined ~
ever heard of Bright Lights? What a wonderful mentoring ministry......if you have one in your area, you should check into it (or consider startin one)! My daughter left so happy and eager to go back. "Mom, all the girls there were so nice! I really liked it! They were so nice! I mean, everyone!! I really liked it! Can I go next time?" ♥
Now, if I could just find one of these for my boys.....seems there's so few opportunities like this for them.
144. The ♥sweet friend♥ who invited her to go.....
145. .....and her ♥sweet mom♥ who is my friend who invited me to go out w/ her while our girls were at the Bible Study
~ and who was not even slightly offended when I yawned my way through the whole evening ; )
146. Getting to catch up with another ♥sweet friend♥ after church Sunday evening, whom I have missed
~ drat those busy schedules!
147. The enjoyment of gorgeous, mild days before the suffocating heat returns
148. Long walks with my favorite people....
149. ....Including little boys with big sticks...
~ he finds a new one every time
150. ...on our journey to a nearby park...
151. ...where they're still not too big to swing and climb...
152. Or, take a water/snack break and talk with their ♥mom♥
153. "Squirrel!!" moments : )
154. A little bit of love to take home with me ♥
155. Nature trails in the midst of the city that have been the place of countless wars and adventures ~ and house many secret forts....
156. ...and that offer a much needed refuge from a hectic, busy life...
157. ....and the perfect place to talk with God...
158.
♫ I am weak, but Thou art strong;
Jesus, keep me from all wrong;
I'll be satisfied as long
~Refrain~
Just a closer walk with Thee
,
Grant it, Jesus, is my plea,
Daily walking close to Thee,
Let it be, dear Lord, let it be.
Through this world of toil and snares,
If I falter, Lord, who cares?
Who with me my burden shares?
None but Thee, dear Lord, none but Thee.
~Refrain~
When my feeble life is o'er,
Time for me will be no more;
Guide me gently, safely o'er
To Thy kingdom shore, to Thy shore.
~Refrain~ ♫