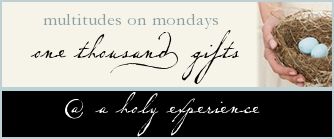 "The unthankful heart... discovers no mercies; but let the thankful heart sweep through the day and, as the magnet finds the iron, so it will find, in every hour, some heavenly blessings!"
191.
no words needed.....
192. A day of no cooking =)
193. ♥ M-O-M ♥
194. The last day of co-op = a slightly more relaxed schedule
195. ♥ "Can you teach my writing class next year, too? I really want you to be my teacher again!" ♥
196. New sewing students =)
197. New ideas
198. Improvements.....in more areas that one =)
199. New days...........to try it again, and again, and again
(in more areas than one)
200. Advice that's actually helpful ; )
~ ~ ever notice that those who have never walked in or near your shoes are the ones most willing to give advice because they know it all.............and those who HAVE, realize they don't know everything and you have to seek them out to ask them for it? Their advice is often valuable ~ ~ and sometimes they have none, but the fact that they've been there and can relate is often the most helpful thing of all.
201. "Mom, you're my most favorite person in the world"
202. A birthday celebrated...
203. ....and, "You look so much younger than you are!" =) =) =)
204. Two birthday cakes...
205. ...and people who live with me who are more than happy to help those cakes disappear!
206. Gift cards!
207. Gift card + clearance racks + additional 40% off at my favorite clothing store = very happy me!
208. The fact that on a recent field trip to a horse supply store, my 12-going-on-13-yr.-old found a shirt that said:
"Here's a girl who'd rather be whispering to horses than talking to boys"
......and she couldn't agree more =) (I am so absolutely, positively, without a doubt encouraging this horse love for as long as I can!!!)
210. Having a day when I don't have to go anywhere....
211. ....and the days when I get to go somewhere fun!
212. My children's Sunday School teachers....
213. .....and choir teachers....
214. .....and workers & volunteers in all of the ministries they are a part of
215. Getting to see children I had as 2-yr. old preschoolers follow the Lord in Believer's Baptism......I got to see 2 of them this Sunday, & another make his FBC singing debut! =) They may forget me, but I never forget them! ♥
216. ♫Since I started for the Kingdom,
Since my life He controls,
Since I gave my heart to Jesus,
The longer I serve Him,
The sweeter He grows.
217. ♫The longer I serve Him, the sweeter He grows,
The more that I love Him, more love He bestows,
218. ♫ Each day is like Heaven, my heart overflows,
The longer serve Him, the sweeter He grows,
219. ♫ Ev'ry need He is supplying,
220. ♫ Plenteous grace He bestows,
221. ♫ Ev'ry day my way gets brighter,

The longer I serve Him,
The sweeter He grows.