I'm still recuperating from an insanely busy holiday season, and thought since I'm playing catch-up on my sweet lil' blog, I'd start catching you up on new items that I've made over the past several weeks!
One of my favorites is without a doubt a new American Girl dress, requested by super fabulous
Etsy
customer! She requested that I make
this dress
for her sweet little girl, customizing the color to match the dress she would be wearing on Christmas day from Gymboree: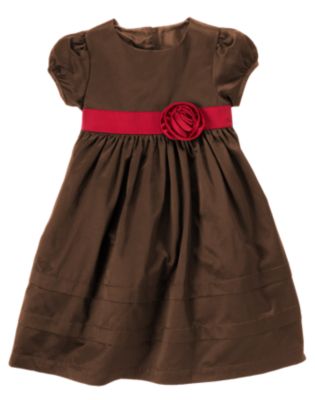 It turned out SOOOO adorable......the pictures actually don't do it justice, as in real life the colors look richer and more vibrant. It is honestly one of my favorite new items ~ the cuteness factor is just over-the-top! ; ) Wish I could have seen them both on Christmas morning, all dressed up!!
Constructed of a beautifully rich brown satin and accented with a vibrant red sash and ribbon flower, this dress has a Velcro closure in the back, making it easy as pie to put on and off for quick wardrobe changes. =)
It really is even prettier in person. After I finished it, I was going from room to room in my house, making all of my children & my husband look at just how adorable it was! =)
All of Sweet Diva's doll clothes will fit any 18" doll, not just American Girls, and one of the top things on my to-do list this year is to add more to my shop.....anything that turns out so cute is just too fun to make!
Happy Crafty Tuesday! Check out some of the link-ups below to find other amazing crafty creations from some of my favorite blogs.....and link up your own!!
♥ ♥ ♥ ♥ ♥ ♥ ♥ ♥ ♥ ♥ ♥ ♥ ♥ ♥ ♥ ♥ ♥ ♥ ♥ ♥ ♥ ♥ ♥ ♥ ♥ ♥ ♥ ♥ ♥ ♥ ♥ ♥ ♥ ♥ ♥ ♥ ♥
And whatsoever ye do, in word or in deed, do all in the name of the Lord Jesus, giving thanks to God the Father through him. ~ Colossians 3:17
♥ ♥ ♥ ♥ ♥ ♥ ♥ ♥ ♥ ♥ ♥ ♥ ♥ ♥ ♥ ♥ ♥ ♥ ♥ ♥ ♥ ♥ ♥ ♥ ♥ ♥ ♥ ♥ ♥ ♥ ♥ ♥ ♥ ♥ ♥ ♥ ♥
Linking up with: